The Alchemy Pro is an update and refresh to the Alchemy. In the Pro Bryan has created an airplane greater than the sum of its parts. Changes were relatively minor on their own but came together to supercharge this airplane with improved knife edge performance, enhanced stability/resolution in yaw, and modern aesthetics. Bryan's real design signature is an unmatched level of purity in all flight envelopes and this airplane demonstrates that ethos better than perhaps any other design we offer. While not purpose built for the mind-bending F3A unknown catalogue, this is an ideal airplane for the competitor ready for a serious F3A machine with real pedigree, uncompromising performance, and a beautiful top class hand painted finish. Look no further than Brett's 3rd Place finish at the 2018 USA F3A Team Trials and Joseph Szczur's 10th place finish at the 2019 F3A World Championships using the Alchemy for proof of it's capability in even the most demanding scenarios.
---
Alchemy voted favorite "modern era" pattern plane by 7,000+ members of RCPPoAE Facebook group!
---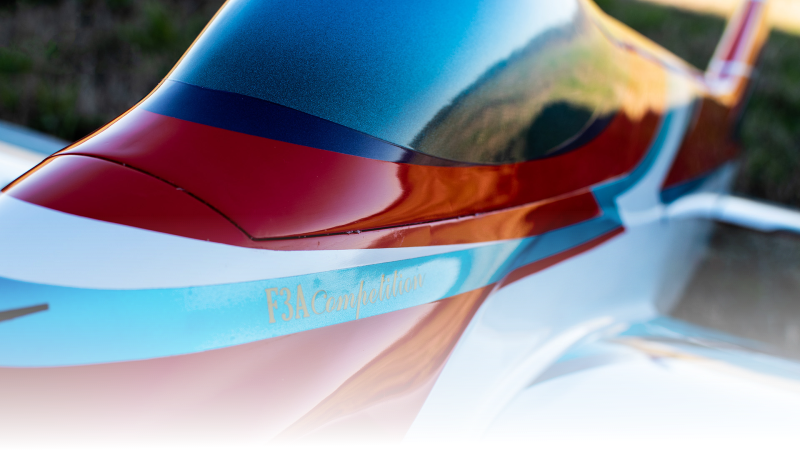 The finish on our Alchemy Pro is hand painted with a single stage paint and clear coat for beautiful depth and long lasting color protection. We hand select colors with several metallic shades and expertly applied color fades for a stunning product.
We stand behind our products, many times literally! We have customers from all over the world that benefit from Bryan's guidance in perfecting their setups. You can be assured that the support you receive is accurate, personal, and effective.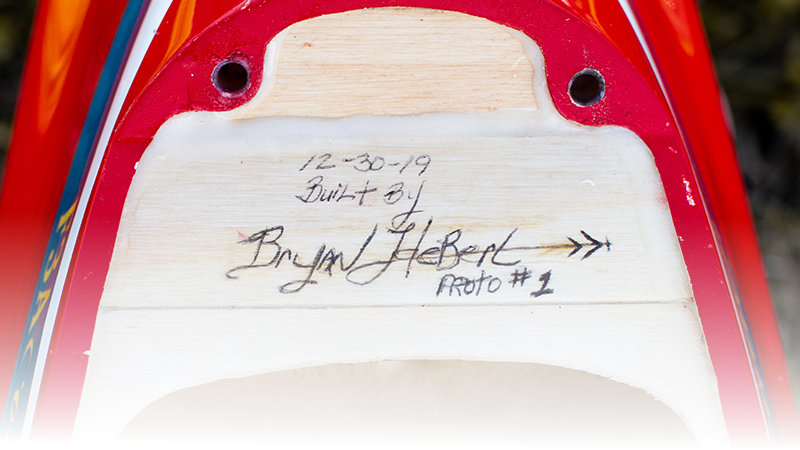 Bryan's designs compete in the finals of the world championships and win National Championships in the USA and all over the world. It's easy to spot his designs with their beautifully sculpted noses, attention to detail and happy owners.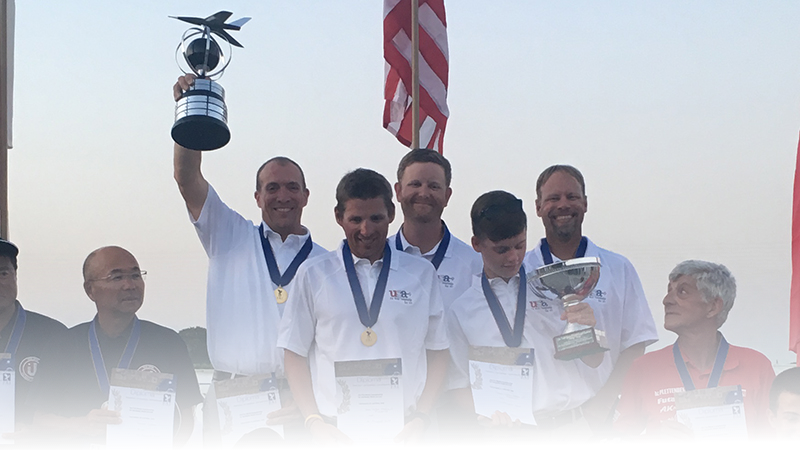 The Alchemy is a multiple time top 10 finisher at the F3A World Championships and multiple time member of the best-in-the-world, gold winning USA F3A World Championship Team.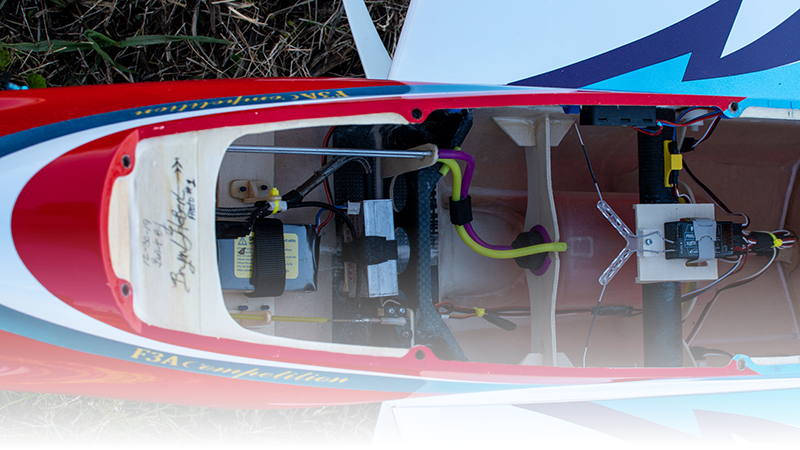 Light enough to accept virtually any equipment you want to run and strong enough to last thousands of flights, the Alchemy gives you a competitive edge and peace of mind simultaneously. Customers routinely install contra drive systems and run 6000mAh batteries without issue.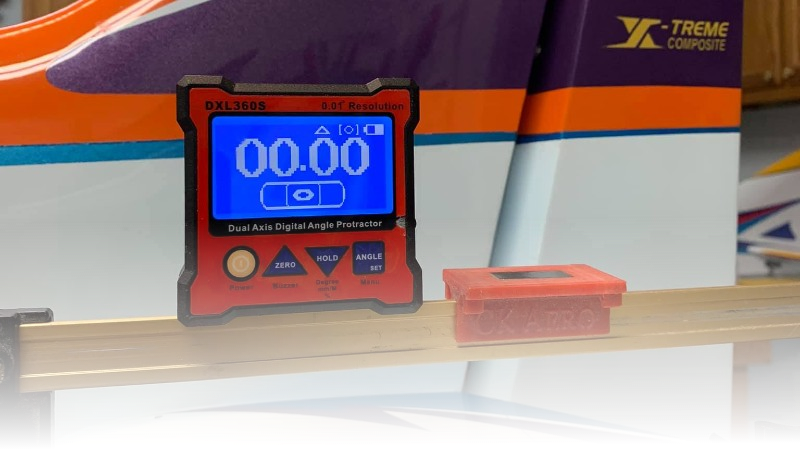 Use our professional assembly services and let Bryan give you a 100% competition ready airplane with test flights and personal coaching included. Your airplane will be aligned to perfection, professionally tidy, and uncommonly dependable. Read more about the Designer's Touch and our other services below.
Swap colors on the standard scheme at no additional cost. Change the base color, move the colors around, or use your own colors and our painters will find the perfect match.
Dream up the color scheme you always wanted but could never do yourself for a flat $500 fee. Metallics, fades, flag effects... you name it, we make it possible.
Save money on our builder's kit and use your modeling skills to create your own masterpiece. We can accommodate all levels of completion to fit every budget.
Have your airplane with our wood, built-up wings and stabs for superior lightness. Available all the way from a complete laser cut kit to finished, almost-ready-to-fly (ARF) panels.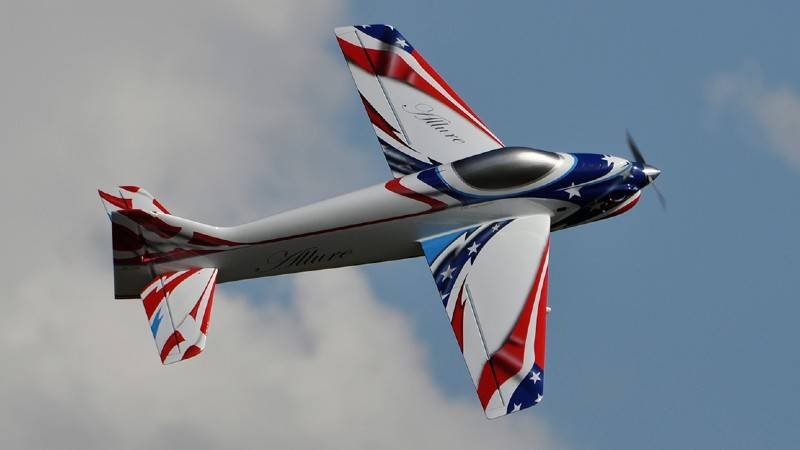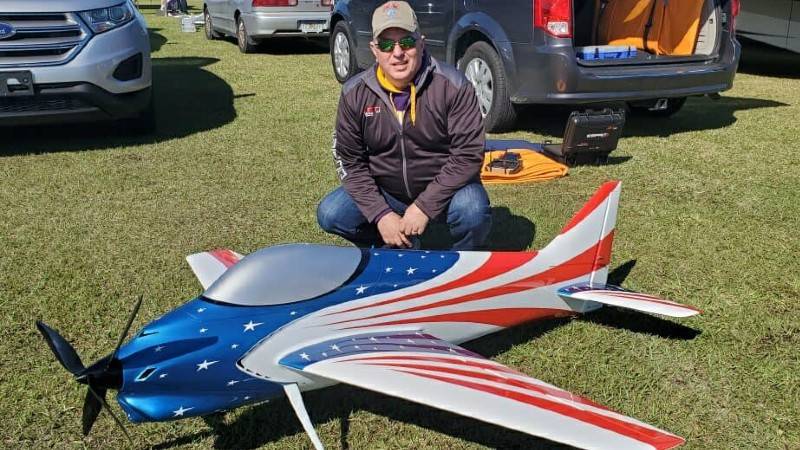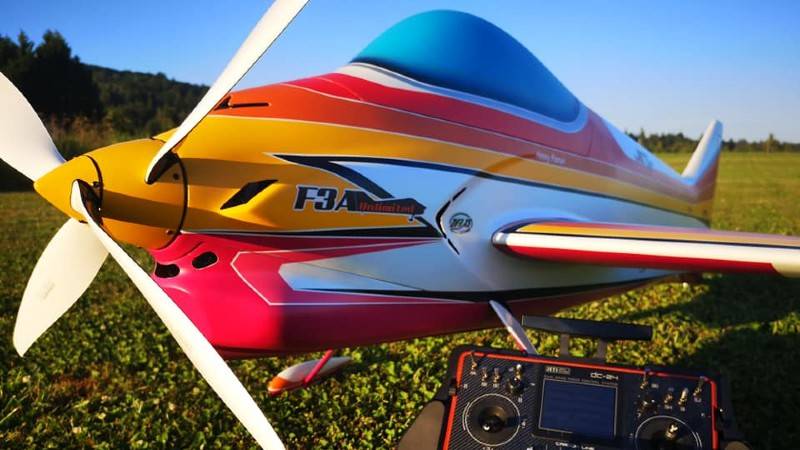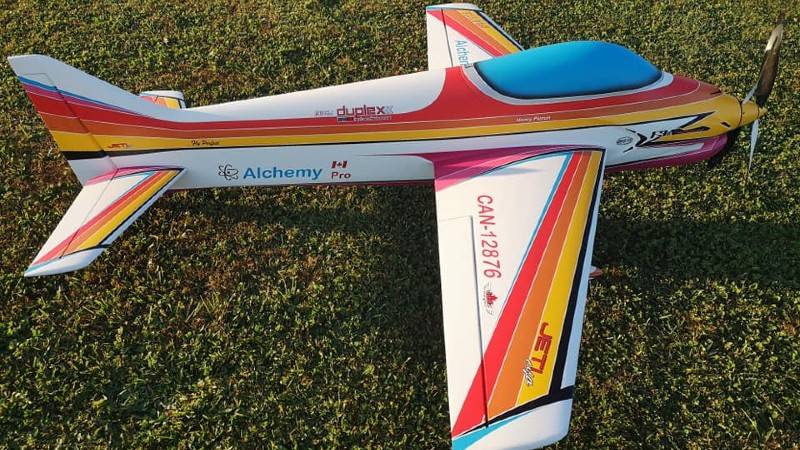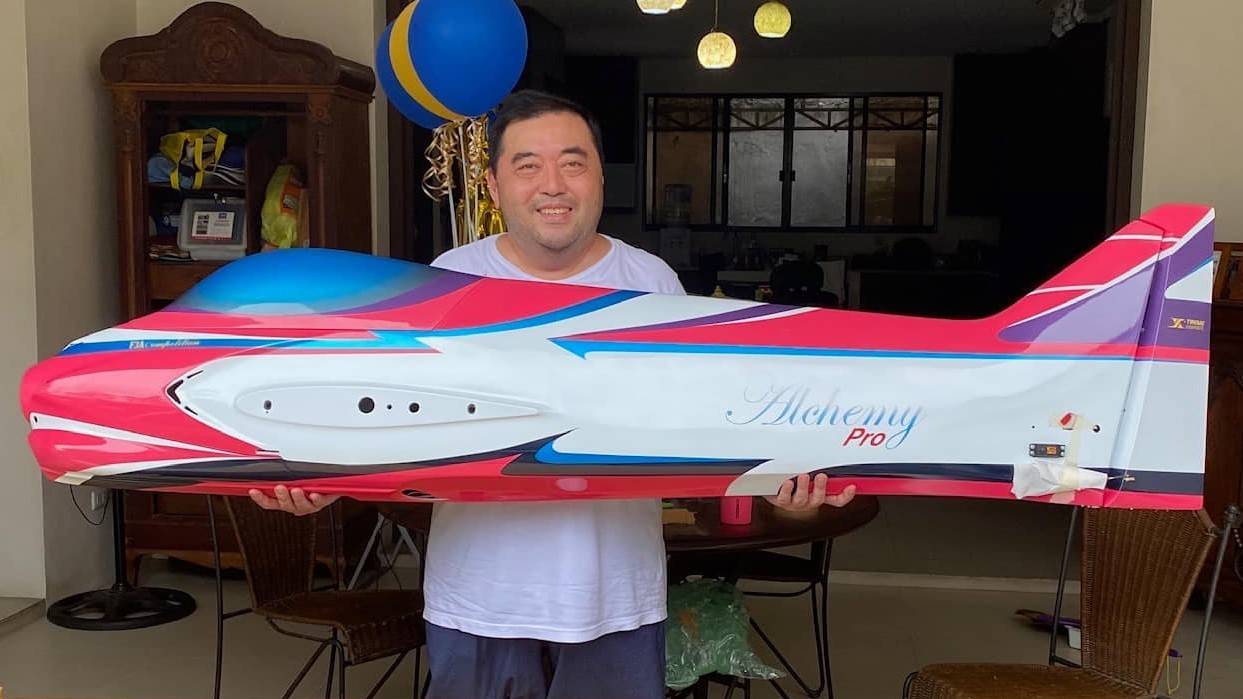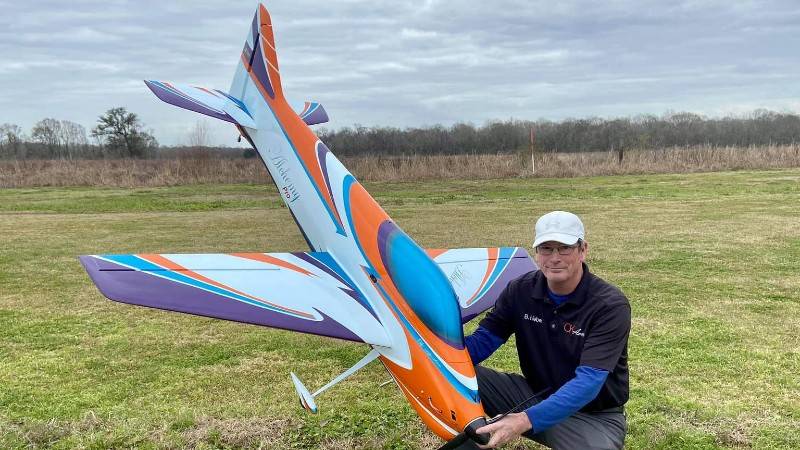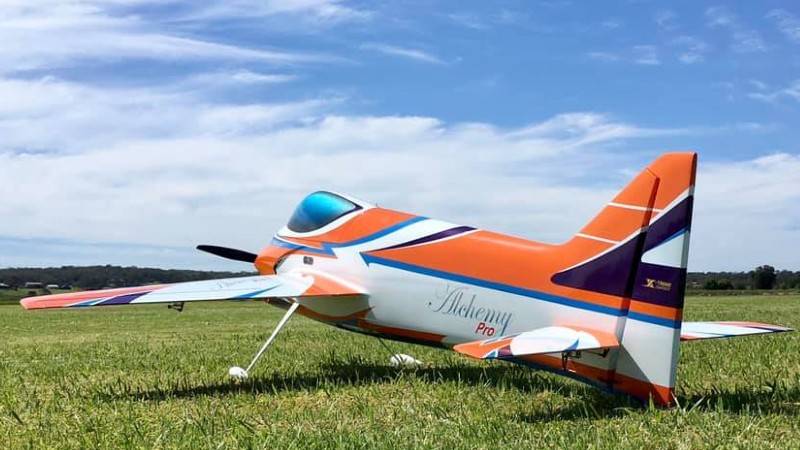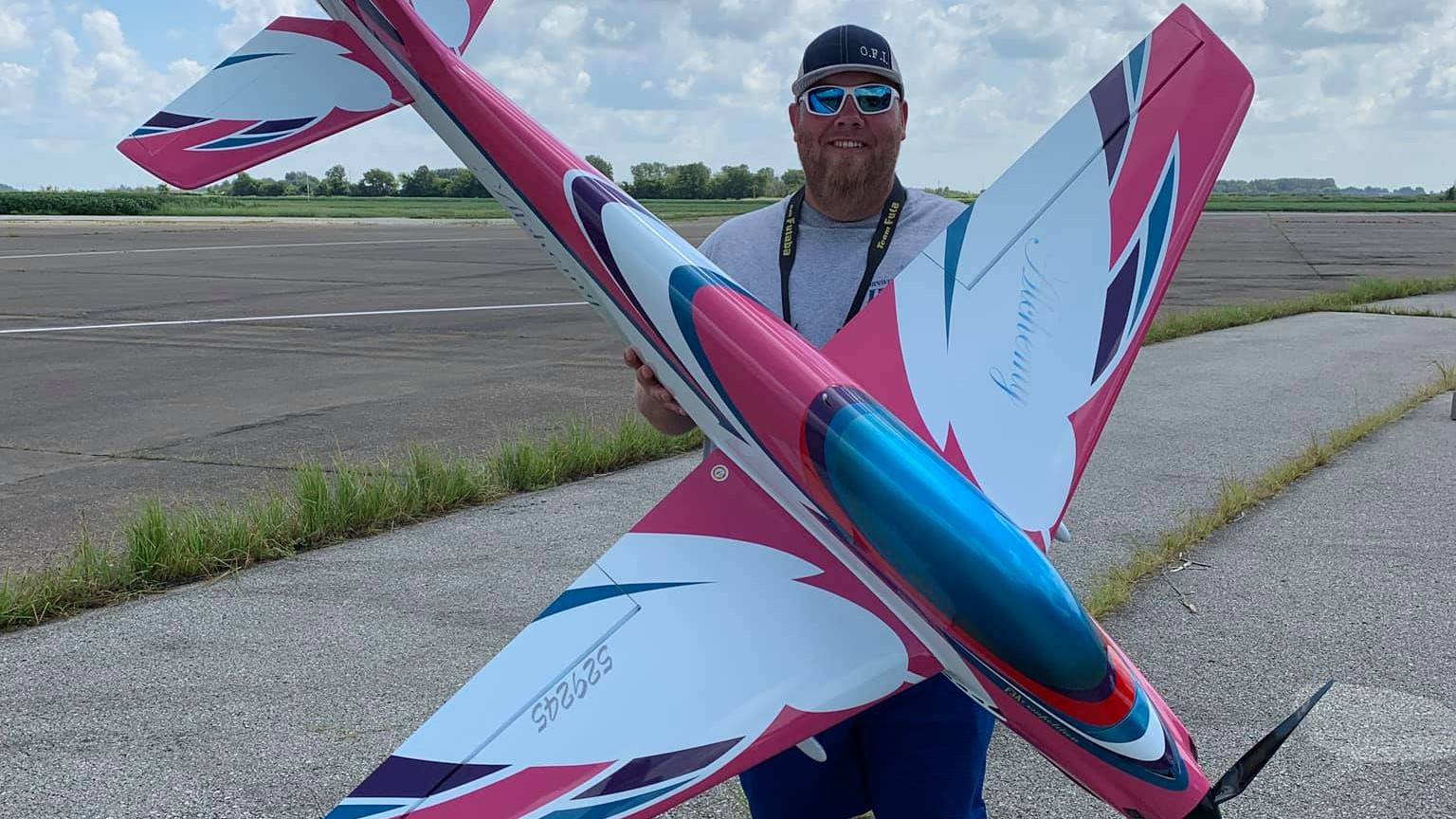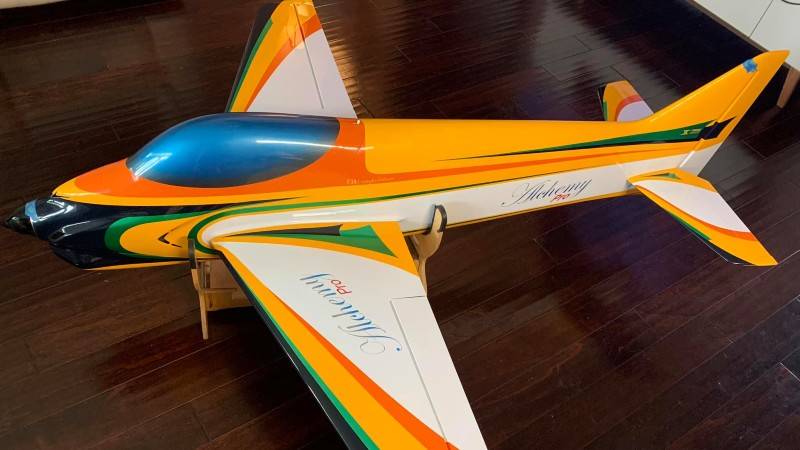 Larger, more forward canopy shape than the original Alchemy allows for more powerful knife edge performance and modern aesthetics.
The increased turtle deck height from the original Alchemy enables smoother and more predictable yaw control.
A taller rudder over the original Alchemy gives better aerodynamic resolution in yaw and enhanced stall turn performance.
The finish is hand painted with a single stage paint and clear coat for beautiful depth and long lasting color protection. We hand select colors with several metallic shades and expertly applied color fades for a stunning product.
A phenolic doubler is pre-installed on the nose by the factory for easier motor installations.

The rudder is designed for a rear mounted servo in a push-pull configuration. The standard sized servo hole is pre-cut and the ply doubler is installed by the factory.

Mounting blocks made from hard balsa are pre-installed in the control surfaces for easy control horn installation (Not designed for screw down type horns).
A new generation Herex composite core material is used for unbeatable strength-to-weight ratio. We go the extra mile by sanding the Herex even thinner for the ideal strength-to-weight compromise.
Carbon fiber is used strategically in the landing gear area of the fuselage layup to add strength and avoid those annoying repairs after the all-to-common landing mishap.
Incidence adjusters for the wings and stabilizers come pre-installed from the factory. Bryan will ensure perfect alignment and incidence setup with our Designer's Touch service.
Fillets are included where the wing meets the fuselage to aid in incidence setup and add geometrical strength to the fuselage - just another way we go the extra mile.

Quick release canopy and chin cowl are mounted directly from the factory (Electric chin uses screws)
Aileron hinges are made in the mold, allowing for a gapless design that stays strong and flexible after thousands of flights. We ensure the bevels allow for the 27+ degrees of aileron throw required for perfect snap rolls.
The redesigned rudder post has a wider chord and double beveled design for bind-free elevator-to-elevator rudder throw. We leave the rudder detached in the box as many people opt for a removable, pin style hinge to make shipping easier.
Elevators are skin hinged in the mold to save weight and eliminate hinge gaps. This design also allows for superior aerodynamic qualities and freedom of movement. (NOTE: Do not use pull-pull with this hinge design)
Our unique, straight-legged landing gear system reduces weight and eliminates stress fractures and failures at the fuselage bend of standard gear legs. The specially designed tongue of each landing gear leg captures into a wedge shaped carbon receptacle with a single screw. Our system is the lightest, strongest, simplest, and most care free landing gear solution in the world.
In the spirit of continued improvement, we've recently engineered the landing gear box to making it even stronger. We're using a milled fiberglass filler to increase the strength of the glue and have fine tuned the fit of the structure to the fuselage.
Ailerons and Elevators have been developed with unique longitudinal and ribbed stiffeners within the control surface. This structure keeps your control surfaces straight, true, and solid for thousands of flights.
The wings include an exclusive, CK Aero designed foam insert in their core which has been developed to increase rigidity and longevity throughout the hundreds of temperature cycles the airplanes are subjected to. We are obsessive about the integrity of our products!
The leading edges of the wings and stabs also include exclusive, CK Aero designed foam inserts for protection against the notorious exploding seams some have experienced with other composite airplanes after a season or two.
Bryan designed the Alchemy to accommodate ALL power plants, including contras. The Alchemy feels no destabilizing effect from the contra.
| | |
| --- | --- |
| Specifications | |
| | |
| | |
| | |
| | Electric, Electric w/ Contra, Glow |
| | |
| | Seamless, Whole Airplane Hand Painted |
*Includes fuselage, mounted canopy/chin/wings/stabs, all (except rudder) control surfaces hinged, landing gear, wheel pants
With our builder's kit you can save some money and get the exact kit you want.
The fuselage is the same as the ARF version, with the exception of the wing tube socket. You are responsible for installing your wing tube socket and front adjusters.

Canopy and chin cowl are still factory mounted!

The accessory pack is the same as the one with our ARF version (see contents below)

Stabilizer socket and front anti-rotation pins come pre-installed

The big difference: you are responsible for the wings and stabs. We offer foam cores for a small upcharge, or you can get wood, built-up wings/stabs as a kit, ARC, or ARF
Here's the real secret: A custom color scheme only costs $250 with the builder's kit option, even with the complete, covered, ARF built-up wings and stabs!
*Please note we have recently had to increase the price of our wing and stab kits $50 due to the dramatic (~2.5x) increase in shipping prices due to the coronavirus pandemic. We know these are trying times and hate to have to do it! As soon as shipping prices come down (hopefully they do!) we will reduce the prices again. As always, we appreciate your business.
---
How much cheaper is it, really? Explore your options then request a quote below
---
Alchemy Pro "Limited" Edition
Ask us about a new "Limited" edition with clear canopy and special color scheme
...But keep quiet about it!...
Interview with the Designer
Derek Emmett interviews as Bryan runs you through new features, his thought process through every design decision, and a deep dive into all the airplane's intricacies. Bryan gives more information and detail here then we could ever include on this page. Sometimes, there is just no replacement for a good conversation
Setup, Build, & Trim Services

Bryan will verify alignment and fit from the factory and then apply his current, personal settings to the airplane so that you have the most up to date and perfect setup available. So what's the big deal? Why would you pay someone else to look at your airplane? Why isn't the airplane already perfectly setup from the factory?
Despite the tremendous efforts of the factory it is just prohibitively difficult and unrealistic to teach factory workers, with little to no knowledge of modeling, to consistently and accurately set incidences and verify trueness to one tenth of a degree. Despite this we are trying our hardest and the airplanes get better and better as time goes on. This is not unique to our factory — we have found gross errors in models at all price points. We are up front about that reality. While we assure you the airplane will fly great out of the box, the Designer's Touch ensures you get the absolute best alignment from Bryan himself. In addition, Bryan is constantly testing on his designs to find the perfect setup. If he has found another 2% from the airplane by moving the incidence two tenths of a degree, you will get the benefit of that knowledge first.
Bryan will make sure the fit of all the critical components meets the highest of standards — any small issue (which could become a big issue with time) with the fit of a wing tube, wing pin, stab tube, etc. is taken care of for you.
A personal inspection of the airplane by Bryan will eliminate any of those nasty surprises we've all had occasionally. An area with not quite enough glue, a chip in the paint, a small crack in the chin cowl…. all are things sometimes unavoidable. With the Designer's Touch you have peace of mind that you won't have to deal with such an inconvenience.
At the end of the day the Designer's Touch is all about having that peace of mind. Your airplane will be straight; your airplane will be true; your airplane will be precisely and accurately set up; your airplane will just be right.
The Designer's Touch is offered for $300
We're now offering build services straight from Bryan's shop! We will install all of your equipment and deliver a ready to fly pattern ship built by one of the best in the world. We'll address your specific needs. Please contact us with anything you would like done and we will be able to do it!
General overview of pricing:
$200 Motor installation (Glow or Electric)
$200 Servo installation, including control horns glued into control surfaces
$1000 Complete build, ready to fly (Only able to program servos with futaba radio systems)
$1500 Complete build, airplane flown and trimmed to Bryan's satisfaction; includes a day of coaching if you can meet Bryan in Baton Rouge for pickup
Get your airplane trimmed to Bryan's satisfaction and let him coach you through your first few flights. Bryan's never ending pursuit for airplane performance perfection means that you will truly have the latest and greatest setup. Bryan is the top setup expert in the USA - used as a resource by the best pilots in the country. Why not have that assurance that your airplane flies just as well as a real USA F3A team member's airplane?
When I'm out at the field and have a question on why an airplane is doing something, [Bryan is] the first person I text...
-Andrew Jesky, USA F3A World Team Captain, USA F3A National Champion, Owner AJ Aircraft
When I go to the field with new planes, Bryan is on instant text/dial the whole day...
-Jason Shulman, USA F3A World Team Member, USA F3A National Champion
Bryan's design, build, setup, and trim knowledge has been an absolutely instrumental aspect of my success. I'm constantly in awe of not only the effectiveness of his advice, but the dogged determination he has to prove himself wrong. No one in this sport works harder on design and setup.
-Brett Wickizer, USA F3A World Team Member, CKAero Co-Founder
Battery tray assembly kit, carbon reinforcement rods and velcro straps included

Tailwheel assembly (wheel not included)

Landing gear legs, wheel pants, and wheel axles

Wing attachment nuts

(Glow only) Fuel tank formers/mounts

Phenolic control horns + aileron servo horn attachment (for perfect 27 degree aileron throw at 100% servo travel) - Upgraded carbon fiber set is available for purchase

Complete cover set - Fuselage, Tail, Wings, and Stabs

Carbon wing tube

Carbon stab tube

2 Plywood elevator servo mounting plates sized for Futaba BLS173

1 Plywood rudder servo mounting plate (Spare)
Tx/Rx Radio System

Propulsion Unit + Fuel/Battery

Servos (Recommended Below) and extensions

Elevator: Futaba BLS173 or equivalent

Rudder: Futaba BLS171 or equivalent

Ailerons: Futaba BLS171 or equivalent

Control Linkages

Elevator: 70mm

Rudder: 100mm

Aileron: 70mm

Clevises (ball bearing recommended)

Rudder hinges (Robart medium pin hinges recommended)
Build Threads, News, Exclusive Pictures/Videos, and More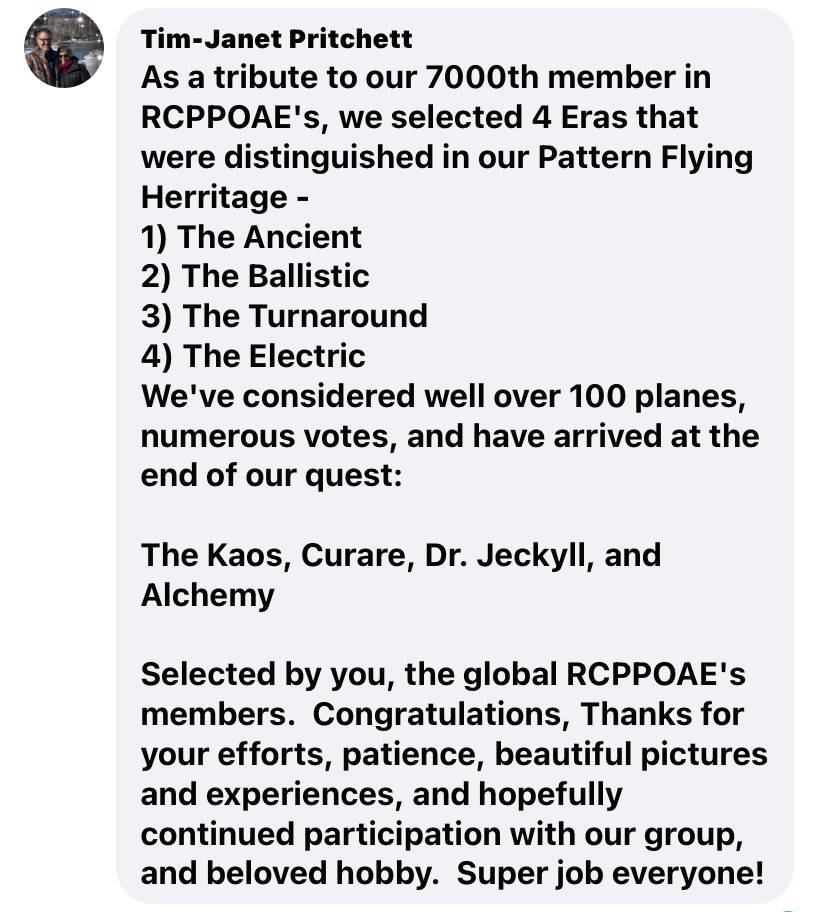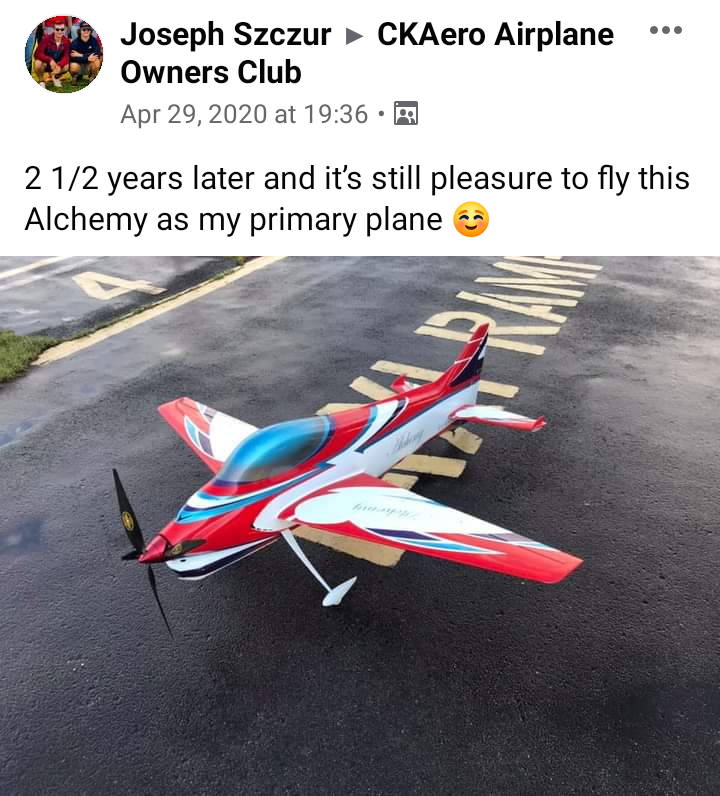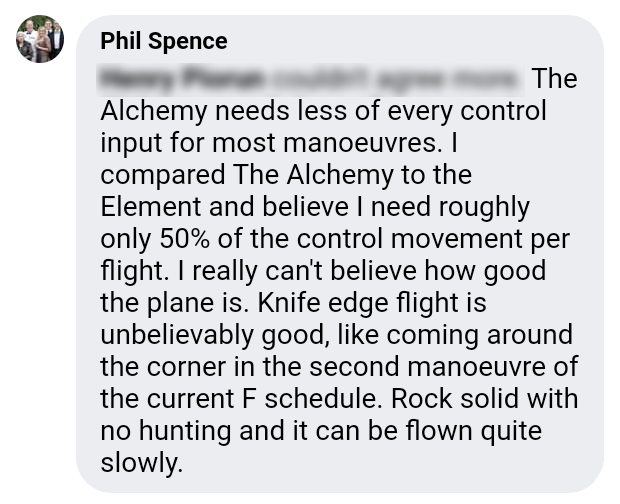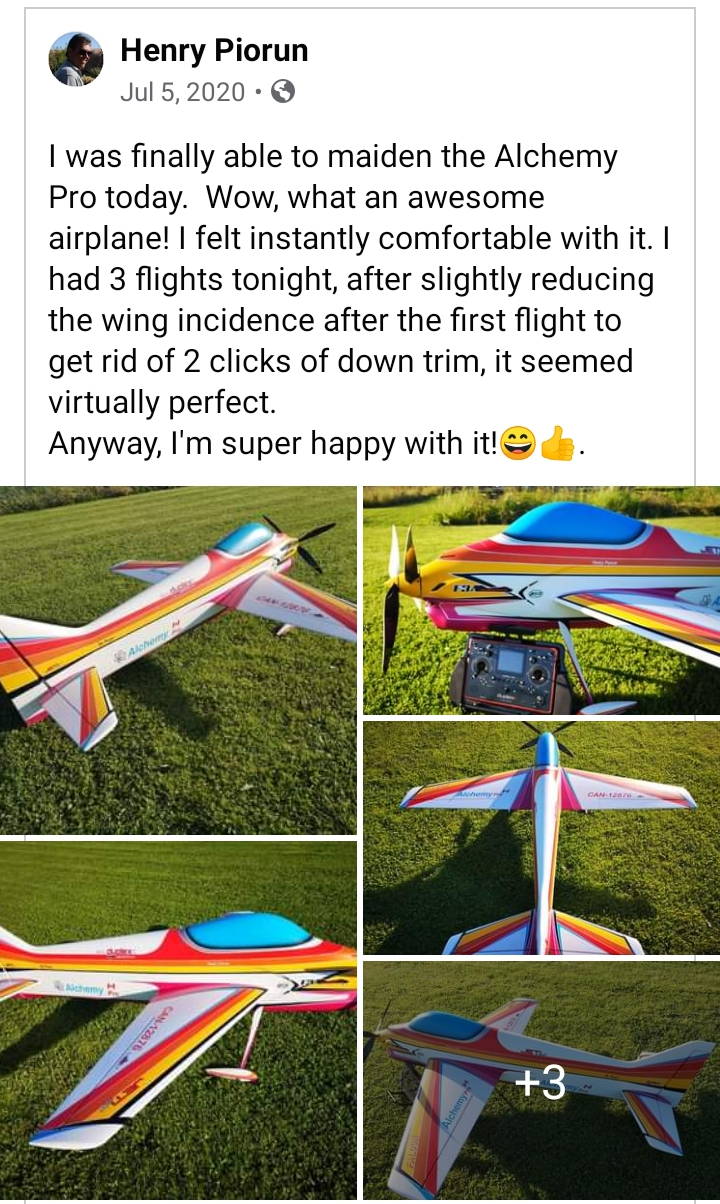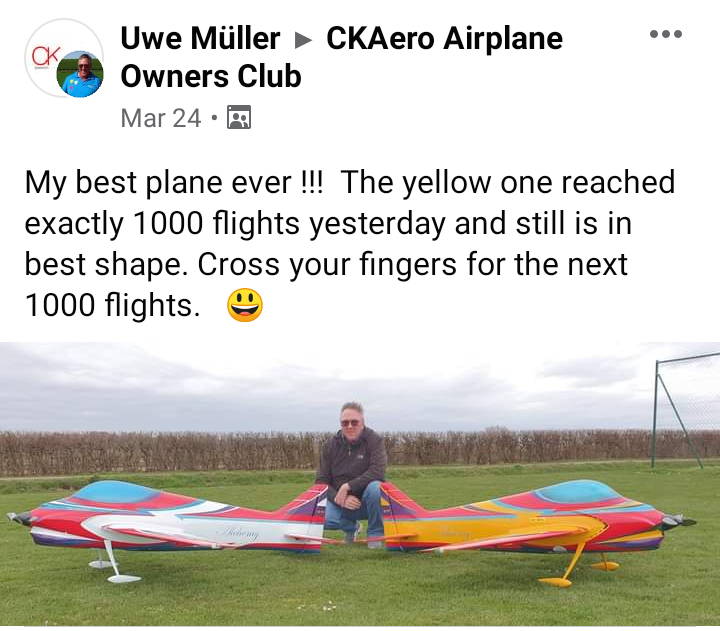 Frequently Asked Questions
How long will it take to receive my Alchemy Pro after I order it?
Our typical delivery time is 3-4 months from the time the airplane is ordered. This can sometimes be longer during certain times of the year or for factors outside of our control. The coronavirus pandemic has caused some challenges with our factory but we are still producing and delivering airplanes at a largely normal rate.
Do you have any airplanes in stock?
Almost every time we put another order in with the factory we include a few airframes for stock. Due to high demand those airplanes are usually spoken for by the time they make it to the United States. If you would like to put your name on our waitlist we will be happy to contact you when an airplane becomes available from stock, or if an airplane becomes available due to a complication with another customer.
How much does shipping cost?
If you wish to get the airplane shipped direct to you the quoted price (and the price at the top of this page) INCLUDES shipping to your door. If you request the designer's touch, or any other build services, we have to ship the airplane from our shop to you. Many customers choose to pick their airplanes up locally in Baton Rouge or to meet Bryan somewhere on the contest circuit, which we are happy to do at no cost. If the airplane must be shipped options are typically Greyhound (~$150) or UPS/FEDEX ($300-$400). Shipping prices have recently increased significantly due to the coronavirus pandemic.
What if my airplane comes damaged?
We've worked extensively with our factory to reduce any shipping incidents but they are an unfortunate reality at times. We guarantee your satisfaction! If there is an issue with your airplane we will do everything in our power to remedy that. If you decide to reject the airplane because of shipping damage we will work with you on a personal basis to ensure a win-win outcome. These issues are handled on a case-by-case basis due to the unique nature of each incident.
When is payment due for my airplane?
Payment must be made in full to secure your order and start production. We must have this policy because of the custom nature of each order. That said, we do occasionally work with customers on a case-by-case basis. We will do our best to work with your needs.